Allied | Harbor Point, Baltimore, MD
Liberty Harbor East, Baltimore, MD
Wills Wharf, Baltimore, MD
Point Street Apartments, Baltimore, MD
Nine East 33rd Mixed-Use, Baltimore, MD
Banner Hill, Baltimore, MD
Spinnaker Bay, Baltimore, MD
The Promenade Apartments and Sylvan Learning Center Complex, Baltimore, MD
Marriott Courtyard Hotel and Office Building Complex, Baltimore, MD
Marriott Hotel Office, Retail, and Parking Complex, Baltimore, MD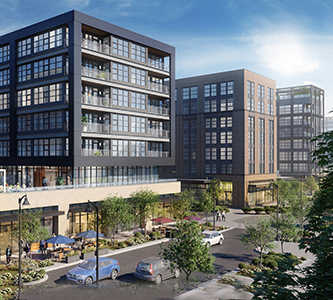 Building E5B: Eight-story, 132,500-SF mixed-use building with a mix of market rate and extended stay units, retail, amenity space, and raised pool on roof of the retail space.
Building E6: Two, 8-story buildings connected by a glass and steel bridge. 295,000-SF structure with market rate and affordable residential units, retail and amenity space.
Structural framing for each building consists of a 3-story Type IA concrete podium supporting 5 levels of Type IIIA wood framed construction above.
Port Covington, E5B and E6 Residential, Baltimore, MD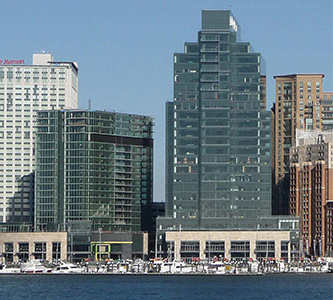 30-story hotel and condominium tower with capacity of construction to 45 stories
26-story, 600,000 SF office tower
Five-level, 500,000-SF, 1,141-car below grade parking garage (slurry wall construction and mat slab foundation)
Structure is constructed of both conventionally reinforced concrete & post-tensioned concrete. Lateral systems are a combination of reinforced concrete shear walls & moment frames
Four Seasons Hotel / Legg Mason Office, Baltimore, MD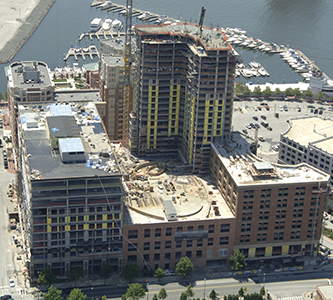 Structural engineering for the 30-story, 980,000-SF hotels, condominiums, office, retail, and multiplex theater complex with a six-level, 800 space parking garage
The structural system is a combination of conventional and post-tensioned concrete slabs supported on caisson foundations
Fast-track construction
The Laureate, Office, Retail, Hotel, and Entertainment Complex, Baltimore, MD